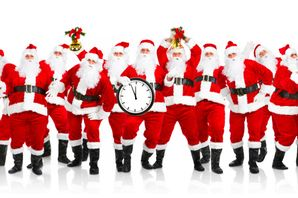 Did you know the average American will spend more than $900 on Christmas gifts this year?
While we all enjoy gathering with friends and family, it's hard to not feel financial stress this time of year. At Fidelity Bank & Trust, we listen to our customers and we have a solution for your holiday woes!
Fidelity's Christmas Club savings account can help alleviate your holiday shopping strain. Saving has never been so easy!
Here's how to open a Christmas Club account and start saving!
Bring $25 to your local Fidelity branch and talk with one of our awesome tellers.
"All you have to do is maintain $25 in your Christmas Club account," said Andrea Williams, Loan Officer at Fidelity Bank & Trust. "You can deposit any amount between $25 and $5000, any time you want!"
When October rolls around, your Christmas Club account has matured, and just like that, you can begin your Christmas shopping with the hard-earned money you've been saving all year. The Christmas Club account allows you to save up to $20,000.
If you're a serious planner, you'll benefit even more!
"We can renew your Christmas Club account for the next holiday season right when your account matures in October," Williams said. "It's a very popular option.
At Fidelity, we want to offer our customers easy saving strategies to make their holiday season even better.
"We just want to help our customers and our community," Williams explained. "Our employees not only work at the bank but donate many hours of service that involve volunteering and developing relationships with everyone in our hometown."
If you have questions about the Christmas Club account or you're ready to open one, come see us!